2 STEPS TO FULLER HAIR
Just 60 Seconds a Day – Glo, Treat & Go
CLINICALLY PROVEN RESULTS
See results in as little as 30 days all from the comfort of home
REJUVENATING SCALP +
FULLER HAIR THERAPY SET
POWERED BY FOLLIGRO™
A combination of 5 nutrient-rich actives weightlessly nourish the scalp for thicker, fuller hair while dissolving buildup, flakes and oiliness.
FULLER HAIR IN
60 DAYS CHALLENGE
Use our 2-step scalp system for 60 days and go from, "I have always had thin hair and tried so many products…" to "My baby hairs are finally growing and my hair feels overall fuller and even shinier."
Shop Our Fuller Hair Collection
Clean, color-safe scalp care for women, plus beard care for men
HAIR WE GO!
HOW TO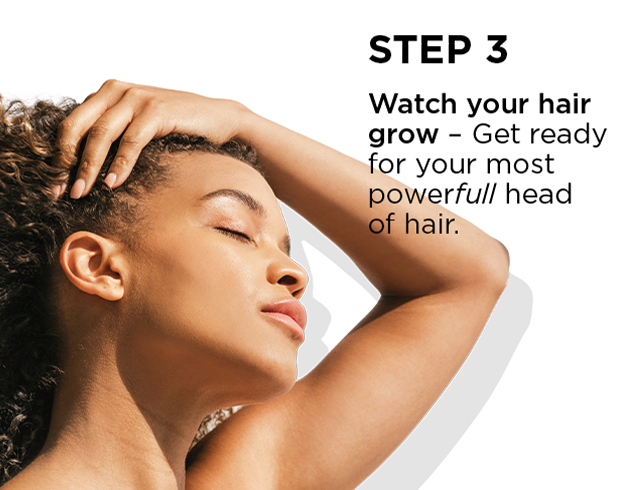 JOIN THE #GLOMMUNITY
Shop our Insta feed

HAVE MORE QUESTIONS?
Here's all the deets
This system is designed with the exact technology and ingredients our scalp needs to help extend the hair's growth cycle to improve hair density while helping remove scalp buildup, flaking and dryness. Healthier, stronger hair is more likely to grow without premature fallout or thinning due to breakage.
Yes! This system is compatible with all hair types and is also suitable for those with a sensitive, dry, oily or irritated scalp. If you have a specific concern about introducing microneedling or a scalp serum to your routine, please consult your dermatologist.
GloPRO®'s SCALP Attachment features a curved designed and flex-suspension engineering (like a razor head) that adapts to the scalp's natural contours for zero tugging or pulling when properly used.
For optimal results, we recommend combining GloPRO® SCALP treatments with application of our Healthy Scalp Serum or your favorite hair-enhancing topicals. However, each treatment can be used/applied on its own for visible results.
Each MicroTip™ Attachment is designed specifically to cater to the unique skin densities on the face, lips, eyes, body and scalp. Each attachment's needle length and shape are optimized to target various head-to-toe concerns.
Yes! Absolutely. We recommend applying the Healthy Scalp Serum daily to a clean, product-free scalp. However, for maximum results, we do recommend applying the Healthy Scalp Serum after treating your scalp with the GloPRO® SCALP Attachment.
The GloPRO helps optimize the environment for your hair to be the best version of itself. It cannot alter the type of hair anywhere on your body. It cannot turn peach fuzz into course, thick hair.
Yes! After treating all target areas with the Healthy Scalp Serum on a clean, product-free scalp, you can use your standard styling hair products.
Yes, the serum works on color-treated hair; and no, it will not strip hair of color treatments.