GLOfacial Complete Set
With travel size Original Concentrate + NEW GLOfacial Collagen Concentrate
See What's Inside Your Pores
Buh-Bye Blackheads!
Max Results. No Downtime.
#PoreConfessions
At-Home Hydration Facial In Minutes
Your waste chamber results will change with each use as your daily activities change. So satisfying.
Multitasking, Patented Tech
Extracts impurities, infuses firming and hydrating skincare & clarifies breakouts
LIKE A VORTEX VACUUM FOR YOUR PORES
While infusing plumping & clarifying skincare
Your Deepest (Most Satisfying) Cleanse Ever
4 MINUTES. 4 SIMPLE STEPS.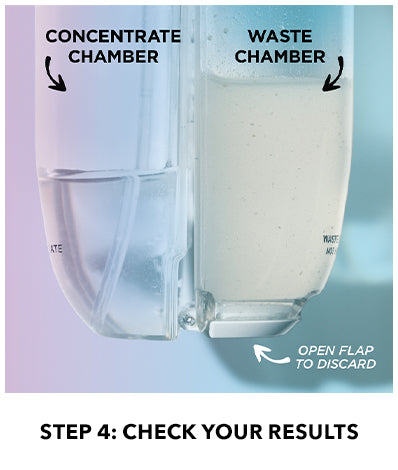 BEAUTY EDITORS LOVE IT
"GLOfacial gently sucks out all the dirt, oil, makeup, and blackheads, which, in turn, makes them look smaller. After the first use, I could barely see my once crater-sized pores. I was sold. But it wasn't only that — my skin also had an imminent glow to it, and that's because in addition to extracting all the yuck from below your skin, it infuses your skin with clarifying salicylic and plumping hyaluronic acid. Out with the bad, in with the good."
— InStyle
SEE OUR VIRAL TOOL IN ACTION
WANT ADDITIONAL CONCENTRATES & TIPS?
HAVE MORE QUESTIONS?
Here's all the deets
The GLOfacial Concentrates were designed for use with the GLOfacial Tool and offers key ingredients to cleanse, clarify, and plump your skin.
Yes, but we recommend using the GLOfacial Concentrate for optimal results.
We only recommend using water or the GLOfacial Concentrate.
GLOfacial works on all skin tones and types. See warnings in user manual for concerns regarding medical conditions.
We recommend beginning with cleansed skin to help prevent makeup, oil, or residue from clogging the Tool or Treatment Tips.
The GLOfacial tool will help clarify your skin by using the Blue LED Light Mode with the Clarifying Cap. Do not use the tool over open wounds or suction modes on active breakouts.
Consult your physician before use if you are pregnant or nursing.
We recommend consulting your physician for a personal treatment recommendation. Do not use it directly after fillers or injections.
We recommend replacing your tips every 2-3 months.
For best results, we recommend using the tool 1-2 times a week. Some areas of congestion may take several treatments over time to clear. Skin may become temporarily flush after treatment as GLOfacial enhances microcirculation so we recommend treating your skin at night.
Yes! You can skip the hydration facial and use the Blue Light with Cap for a clarifying treatment anytime. We recommend spot treating for two minutes.
Both Concentrates help infuse skin with amazing ingredients like hyaluronic acid, helping get the most out of your GLOfacial treatment. The Original Concentrate focuses more on clarifying - great for blemish prone or oily skin! Collagen Concentrate helps build firmer, juicier skin for a plump, dewy feel.
REGISTER YOUR GLOFACIAL
Already purchased your GLOfacial? Register with the unique code inside your User Guide to receive a FREE GLOfacial Tips Replacement Kit on your next order $50+